Ruben Rojas
Public Art Projects
By using the urban landscape as his canvas, Ruben encourages communities to change for the better through optimism and collaboration. These once vacant walls are now vibrant reminders that inspire those who see them to dream big, feel beautiful, live in possibility, and to love. Ruben's murals can be seen in cities across the country and around the world from Paris to New York and Florida to Mississippi.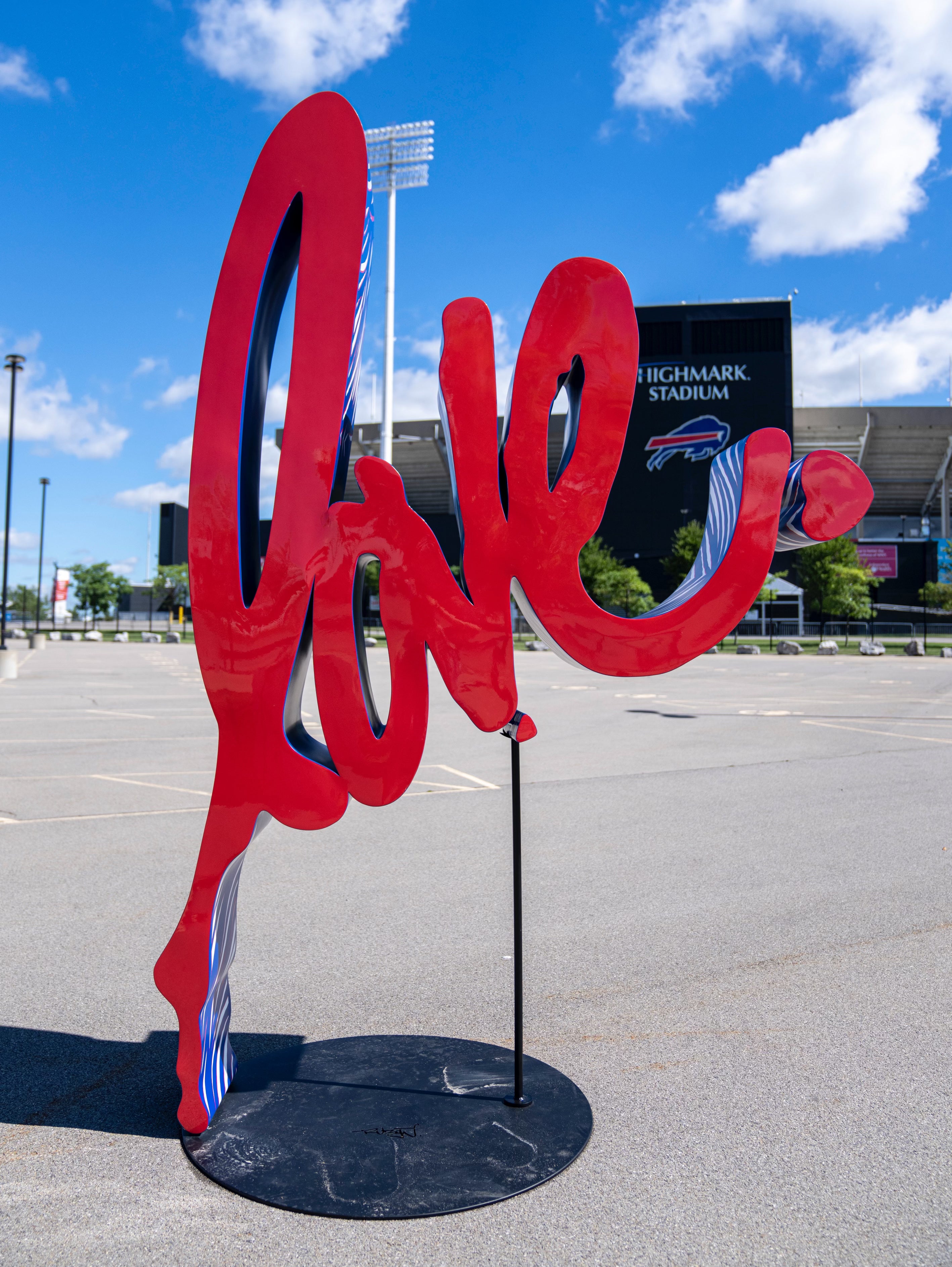 NFL Choose Love
The NFL X Ruben Rojas Choose Love Campaign is a powerful collaboration between the NFL and renowned artist Ruben Rojas. As part of Kickoff 2022, the NFL has teamed up with Ruben Rojas to design signature "Love" sculptures for the Los Angeles Rams and Buffalo Bills, igniting a nationwide call for unity and togetherness. In a candid conversation, Jalen Ramsey and Ruben explore the profound impact that art can have on spreading a message of love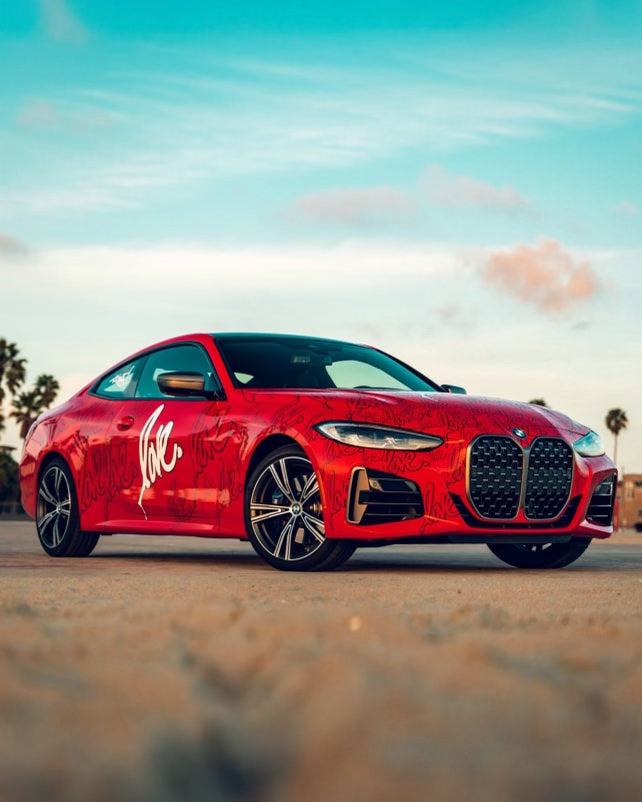 BMW
Experience the extraordinary collaboration between BMW and Ruben Rojas as they create the Driven By Love campaign. This unique partnership has resulted in the design of three exceptional one-of-a-kind BMW vehicles, each embodying the spirit of love and artistry.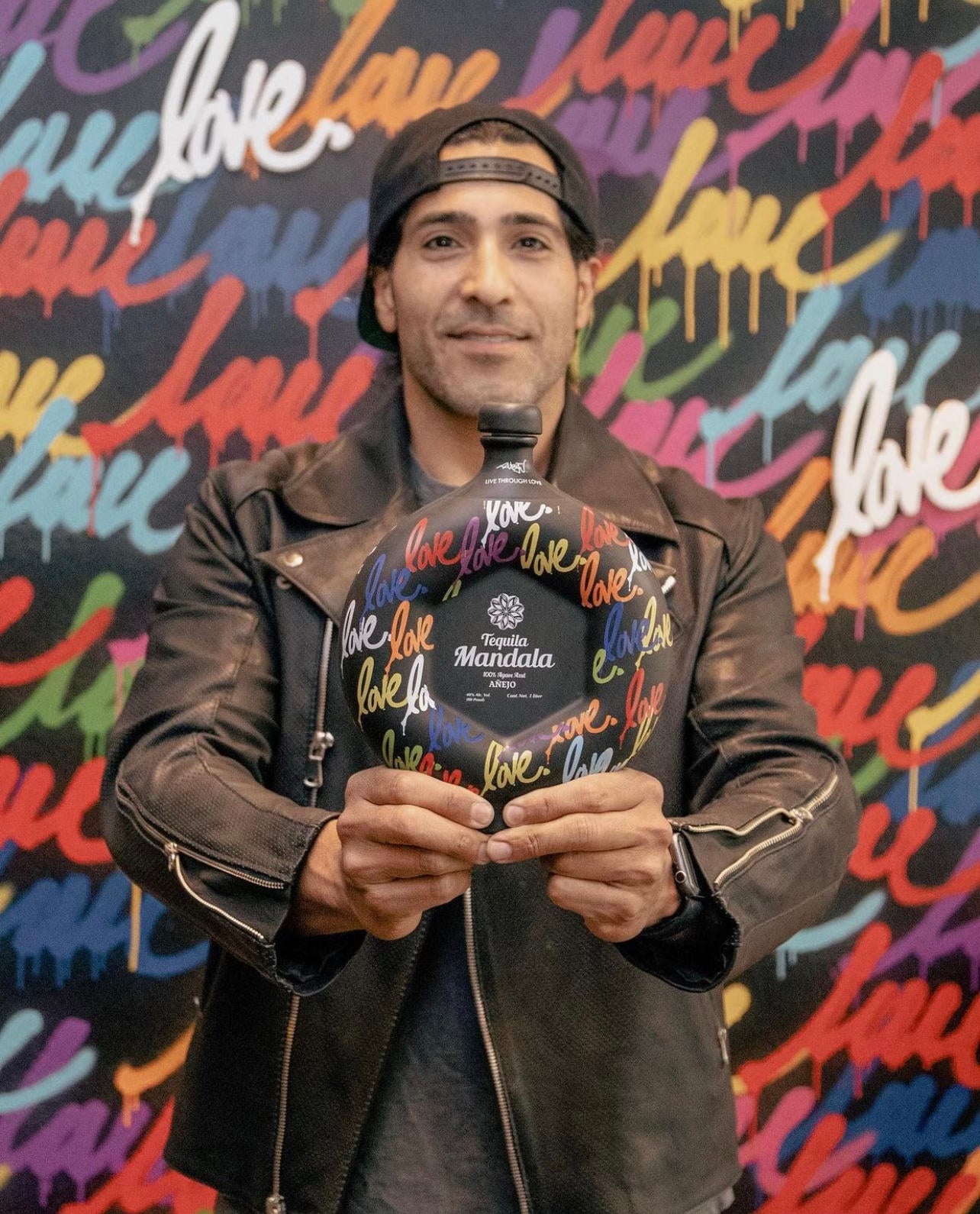 Tequila Mandala
Ruben Rojas X Tequila Mandala presents a limited edition Live Through Love Añejo Tequila, a collaboration between artist Ruben Rojas and artisanal tequila maker Tequila Mandala. Each bottle features Rojas' signature "love" script, hand-painted on a blank canvas, to create a unique and visually stunning design. The entire process, from crafting the bottles to the packaging, is infused with love and care, reflecting both Rojas' artistic approach and Mandala's commitment to quality.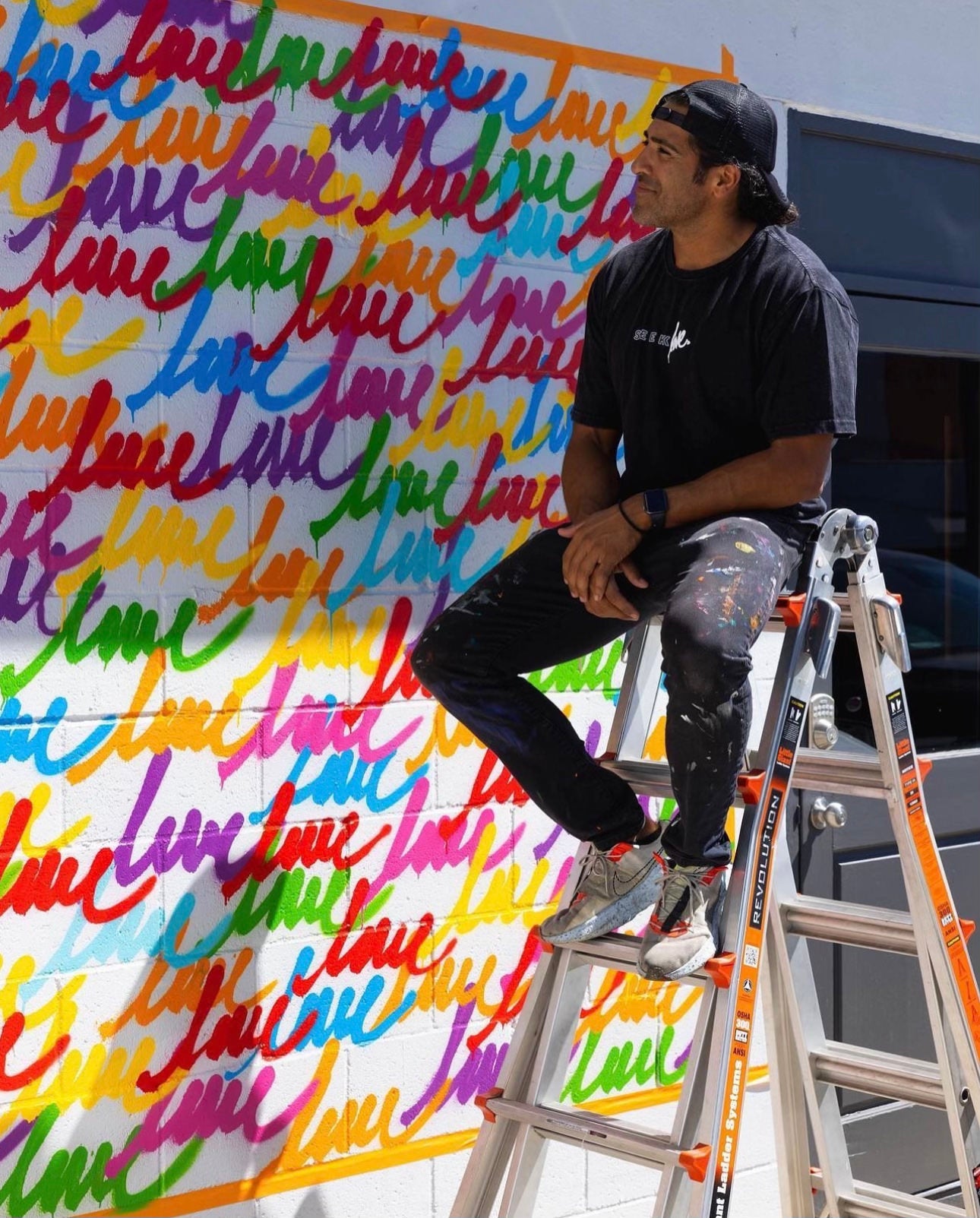 Seek Discomfort
Ruben Rojas and Seek Discomfort have joined forces to create an exclusive limited edition capsule collection that serves as a powerful reminder to "Seek Love" every day. This unique collaboration combines Rojas' artistic vision with the inspiring ethos of Seek Discomfort. The collection features carefully crafted and thoughtfully designed pieces embody the message of love, encouraging individuals to embrace love in all aspects of their lives. From apparel to accessories, each item in the capsule collection represents a tangible reminder to prioritize love and spread positivity.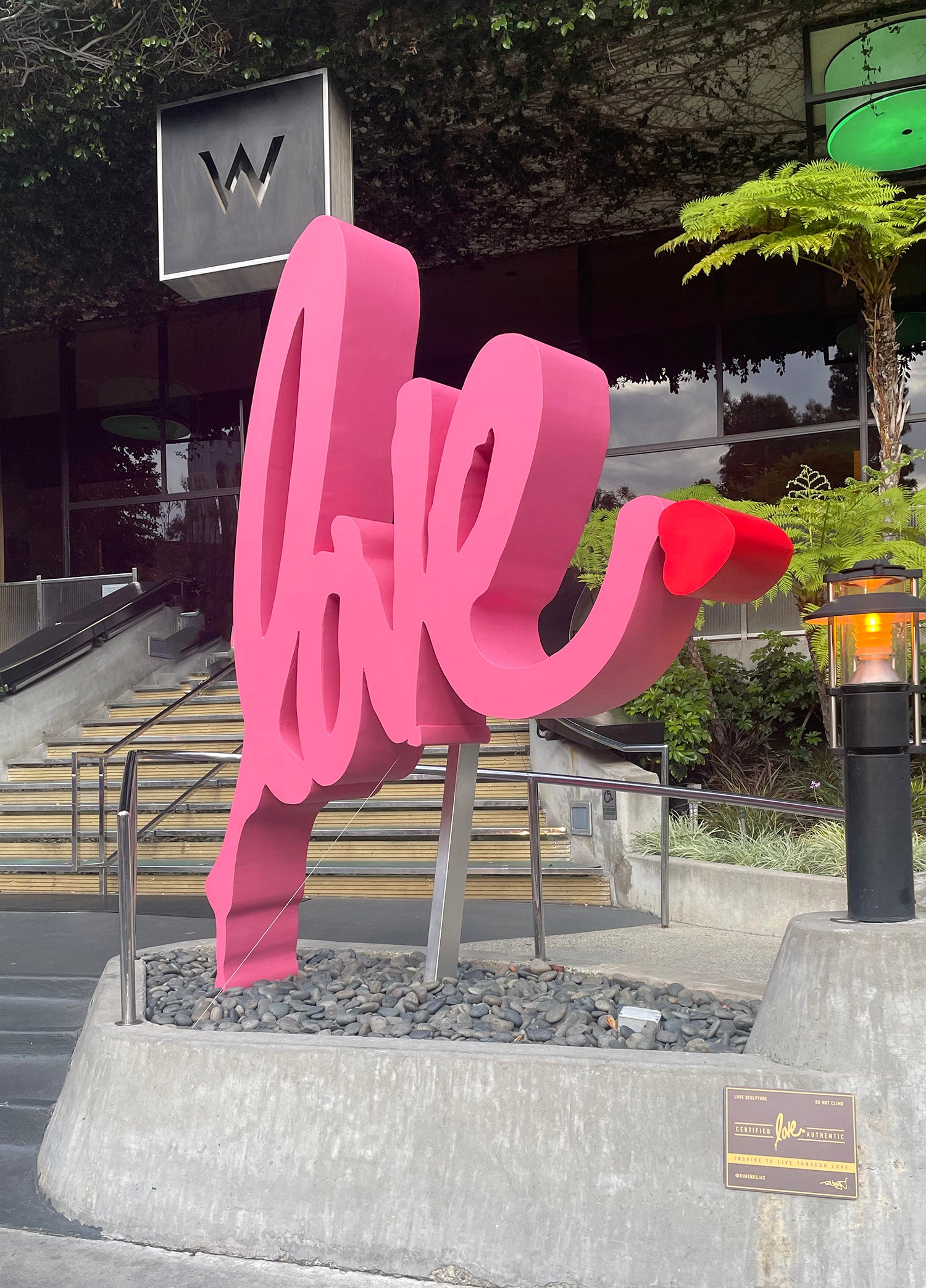 W Hotel Los Angeles
The W Hotel  has teamed up with renowned artist Ruben Rojas to create a stunning transformation that invites guests to "Live Through Love." This exciting collaboration infuses the hotel with Rojas' vibrant art, captivating sculptures, and more, creating a truly immersive experience. Every corner of the hotel is adorned with Rojas' powerful message of love, inspiring guests to embrace love in their everyday lives.
Murals / Street Art / Sculptures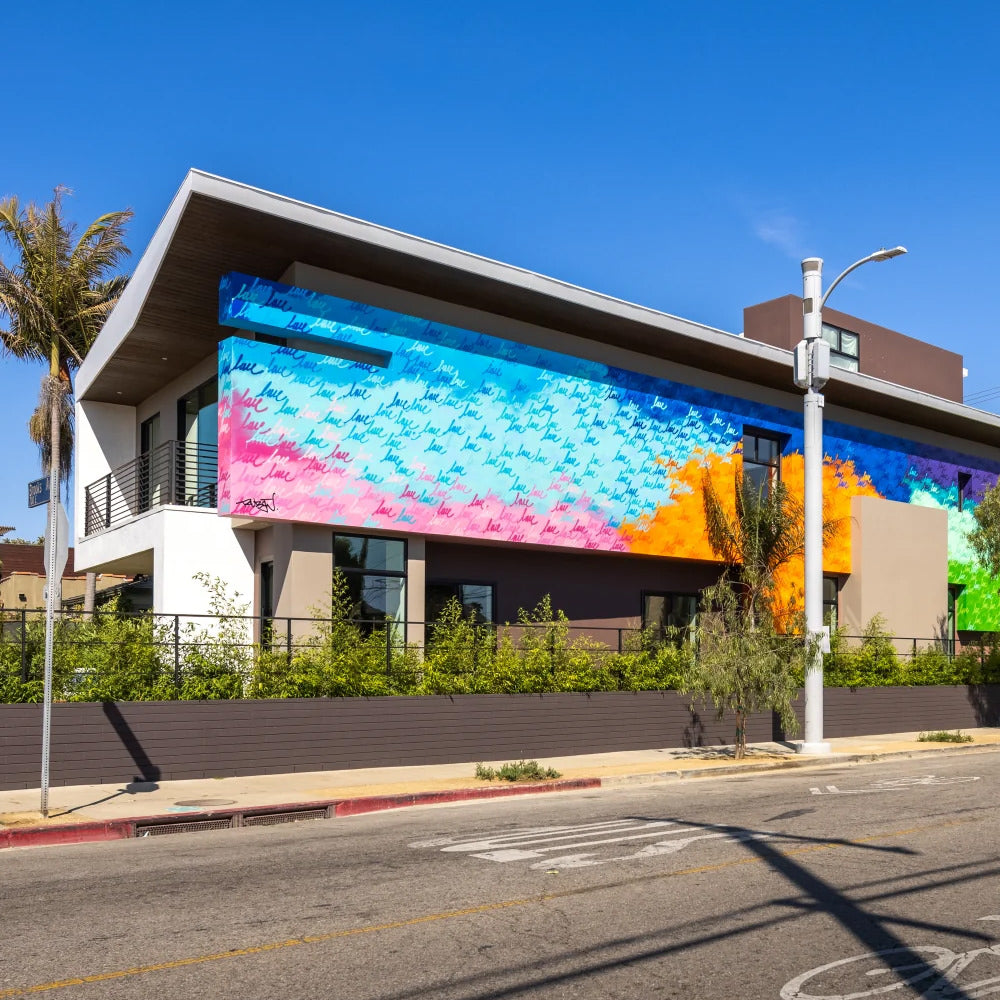 Love House
'Love House Venice' - Every home needs love. This one happens to have love all over it.
This house was conceived as an art piece in collaboration with Kurt Gibbs (Gibbs Architect). Together, we spread the universal message of love on the most important canvas of all: home...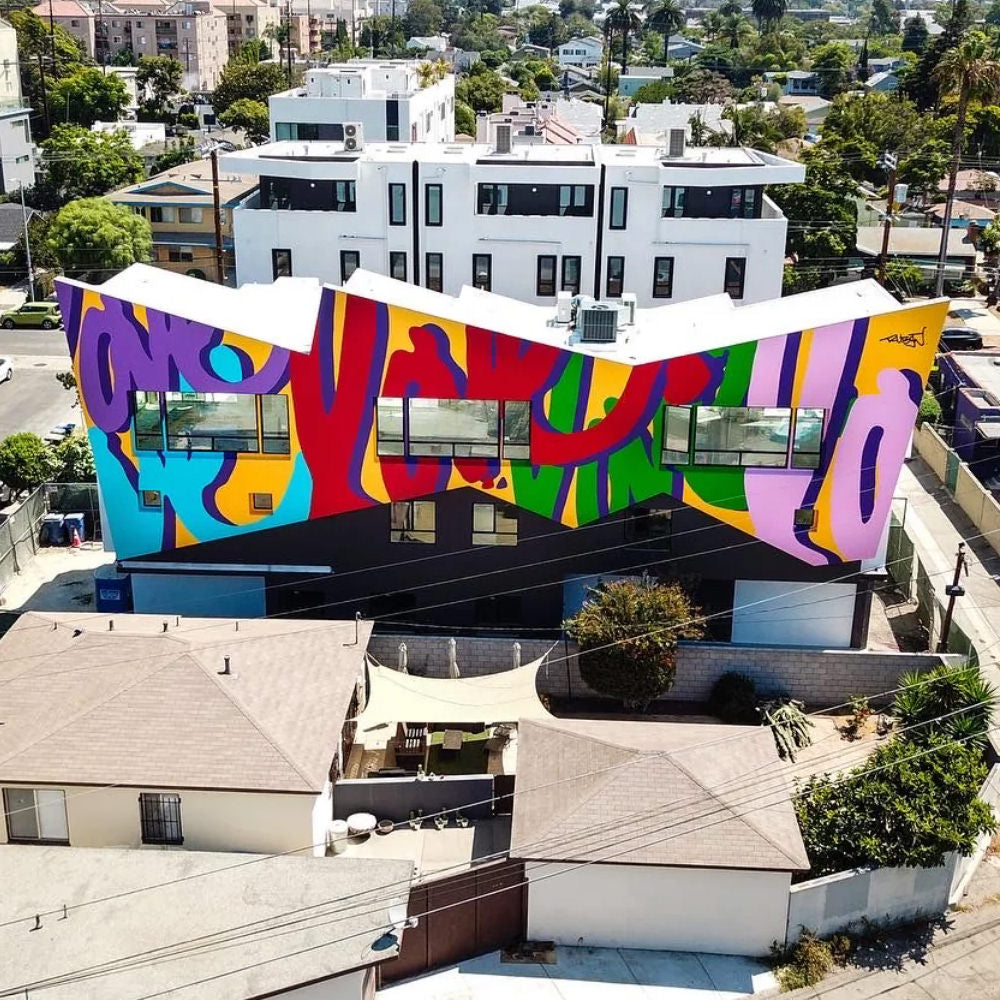 Love On Lincoln
I've written, outlined, sketched, painted, and printed the word "love" over a million times. Sometimes it's small enough to fit on the pocket of a T-shirt. Other times, it spans three units on Lincoln Blvd.
Every day I wake up and live life in love. This building is a literal representation of that—a place where you can actually live in love. There's nothing subtle about it. It's unapologetically bold and bright...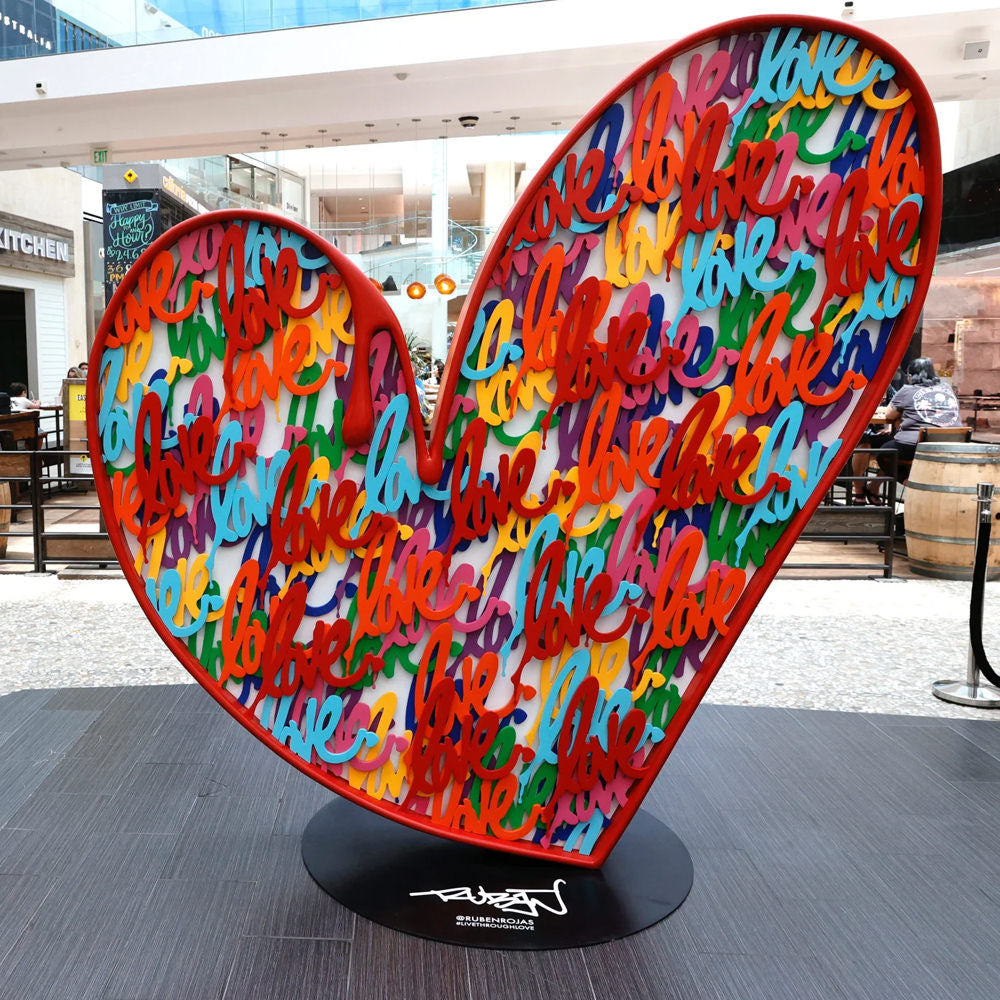 Westfield Topanga
Let's take an art walk together.
My 'Summer Of Love' exhibition is currently on display at Westfield Topanga. I left my mark inside, outside, and everywhere in between. You'll see love everywhere you look. There are five installations total, a mix of my classic designs and some new twists on old favorites. I wanted to give you a tour if you can't see it in person...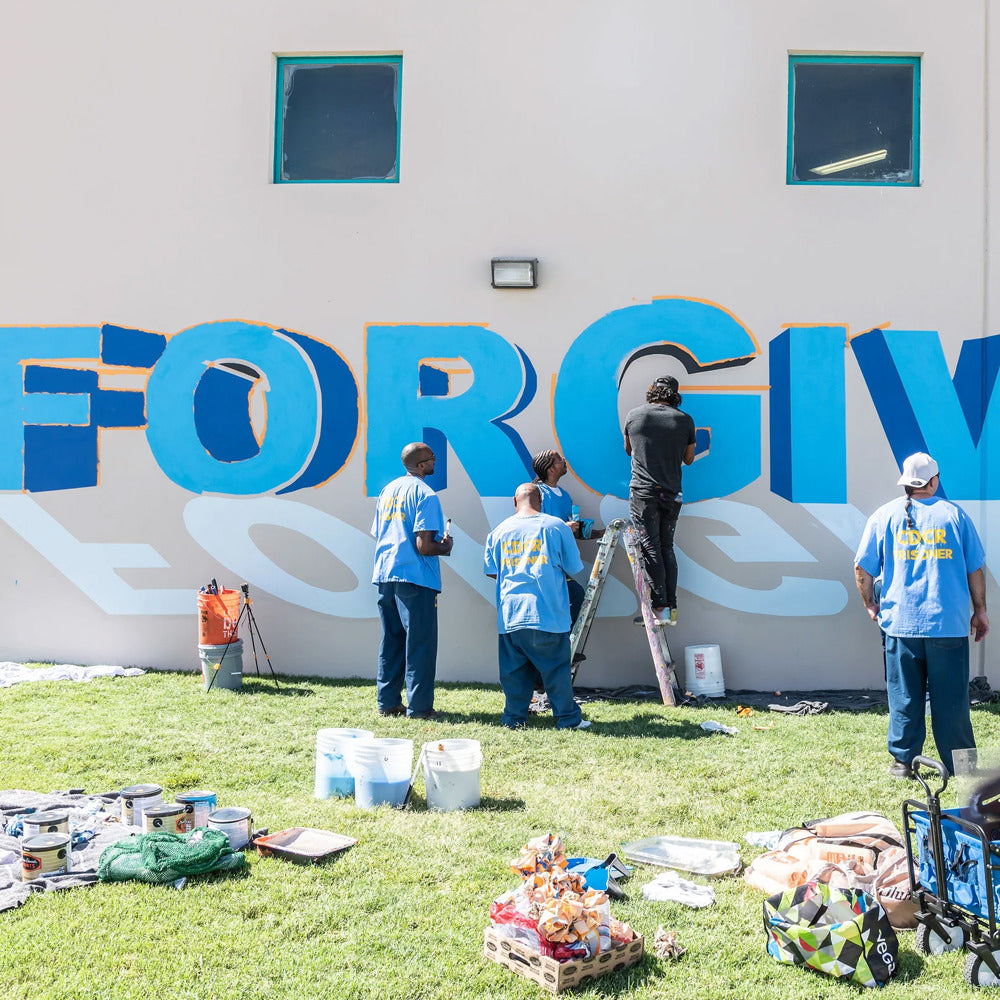 FORGIVE/FORGIVEN
In 2018, I had the opportunity to visit the inmates of Lancaster State Prison. After speaking with the men and hearing stories of the violent crimes they committed, I gained new insight, perspective, and empathy for them. It's extremely easy to write these men off as criminals and not think twice about their lives behind bars. Or to believe that they can change and come back into society to contribute as different men...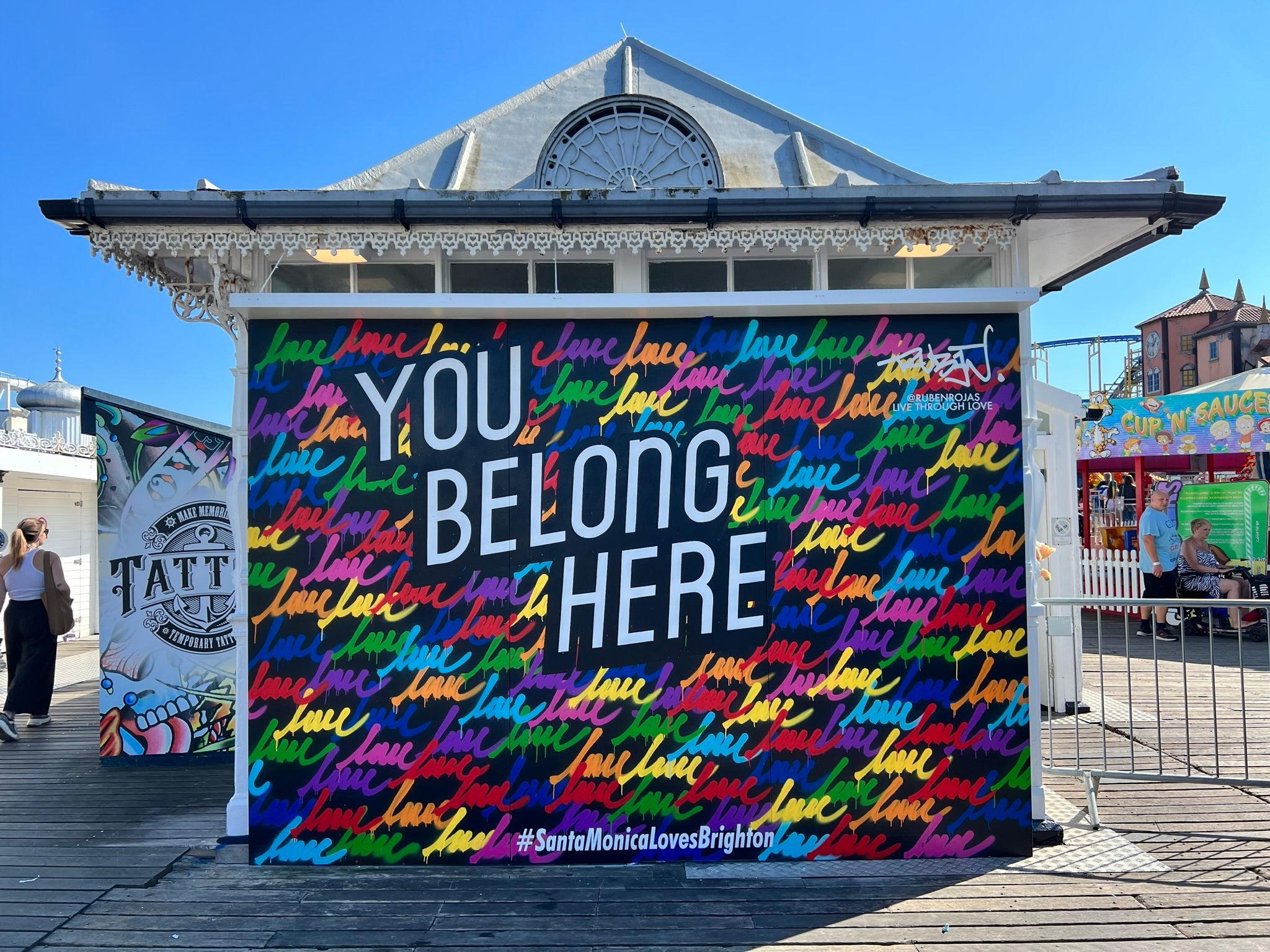 You Belong Here
The Santa Monica and Brighton Friendship City Pact was further solidified and celebrated through the formalization of Ruben Rojas' iconic "You Belong Here" mural. This mural serves as a powerful symbol of inclusion, acceptance, and connection.
Located on Brighton's Palace Pier, Rojas' mural captures the essence of belonging, spreading its message to all who see it.
See Ruben's Art in Person
Mural Locations
Who will you be?
3309 Lincoln Blvd., Santa Monica
Anything Can Happen…
2309 Main St., Santa Monica
You Are Beautiful!
2522 Main St., Santa Monica
LOVE 
12120 Venice Blvd., Mar Vista
Leave Nothing But Footprints
Braddock Elementary School Culver City
I Ruv You
8807 Melrose Ave., West Hollywood
Create
2114 Pico Blvd., Santa Monica
Kids on Swing
Ventura Blvd, Sherman Oaks
Astronaut Man
Mar Vista Residence
Double Love
18515 Sherman Way, Reseda
Gracie
Neighbor Restaurant, Venice
Gratitude
1302 Santa Monica Blvd., Santa Monica
Respect (Mentour)
Lennox Middle School
Words of Affirmation
Lululemon Studio City
Planet Blue
El Segundo
Spread Your Wings
14027 Pioneer Blvd. Norwalk, CA
I am LOVE Houston
540 W. 19th St., Houston Heights, TX
Goals & Dreams
Clarksdale, Mississippi
12 Hearts/12 Lives Remembered
2951 E. Thousand Oaks Blvd., Thousand Oaks, CA
Now & Forever
122 Hawthorn Center, Vernon Hills, IL
Love Yourself
The Tox LA, 14060 Ventura Blvd., Sherman Oaks
Cats Play
8807 Melrose Ave., West Hollywood
I Am (Heart) Venice
415 Rose Ave., Venice
Dreamer
1362 Walgrove, Mar Vista
Be Humble
3501 S Centinela, Los Angeles
Imagine
Mark Twain Middle School
Create
Mark Twain Middle School
Dream Big
Mark Twain Middle School
Life is Beautiful
4617 W Washington Blvd., Los Angeles
Breathe
Urban Exhale Yoga 728 N. La Brea Ave. Los Angeles
Elephant Love
Los Angeles Zoo
I Am Love
Naam 1231 4th St., Santa Monica
Begin With Gratitude
2732 Main St, Santa Monica
Unconditional Love
Westfield Fashion Square, Sherman Oaks
Brave
Sycamore Ave., Los Angeles
Ventura Whales
Rincon Brewery 4100 Telephone Road, Ventura
Together We Can
Rustic Canyon 1119 Wilshire Blvd. Santa Monica
Liberte Egalite Amour
Paris, France
Do What You Love
13220 Washington Blvd., Los Angeles
Hope/Wish
2624 N. Broadway Lincoln Heights
Always Believe Something Wonderful is About to Happen
Glendale Galleria
Hold Your Hand
1824 Lincoln Blvd, Santa Monica
Create Your Moments
Beverly Connection, Los Angeles
Just Do Good
310 E. El Segundo Blvd., Compton
Same Boat
1301 N Willowbrook Ave. Compton
Buena Vida
12940 Victory Blvd., North Hollywood
Love Rises
3401 Somerset Drive, Los Angeles
Love (City Heights)
3515 University Ave., San Diego
Zoo Love Wall
Los Angeles Zoo
Naam Love Wall
1231 4th St., Santa Monica
Courage to Create
Sandra Cisneros Campus - Los Angeles
Rising Sun
Ra Bar West Hollywood
Love Is The Answer
417 Rose Ave, Venice
Forgive/Forgiven
Lancaster Maximum Security Prison
You Belong Here
W Hollywood Hotel
You Belong Here
51 Essex, San Antonio, TX
Empower
1100 Ludlow St, Philadelphia, PA