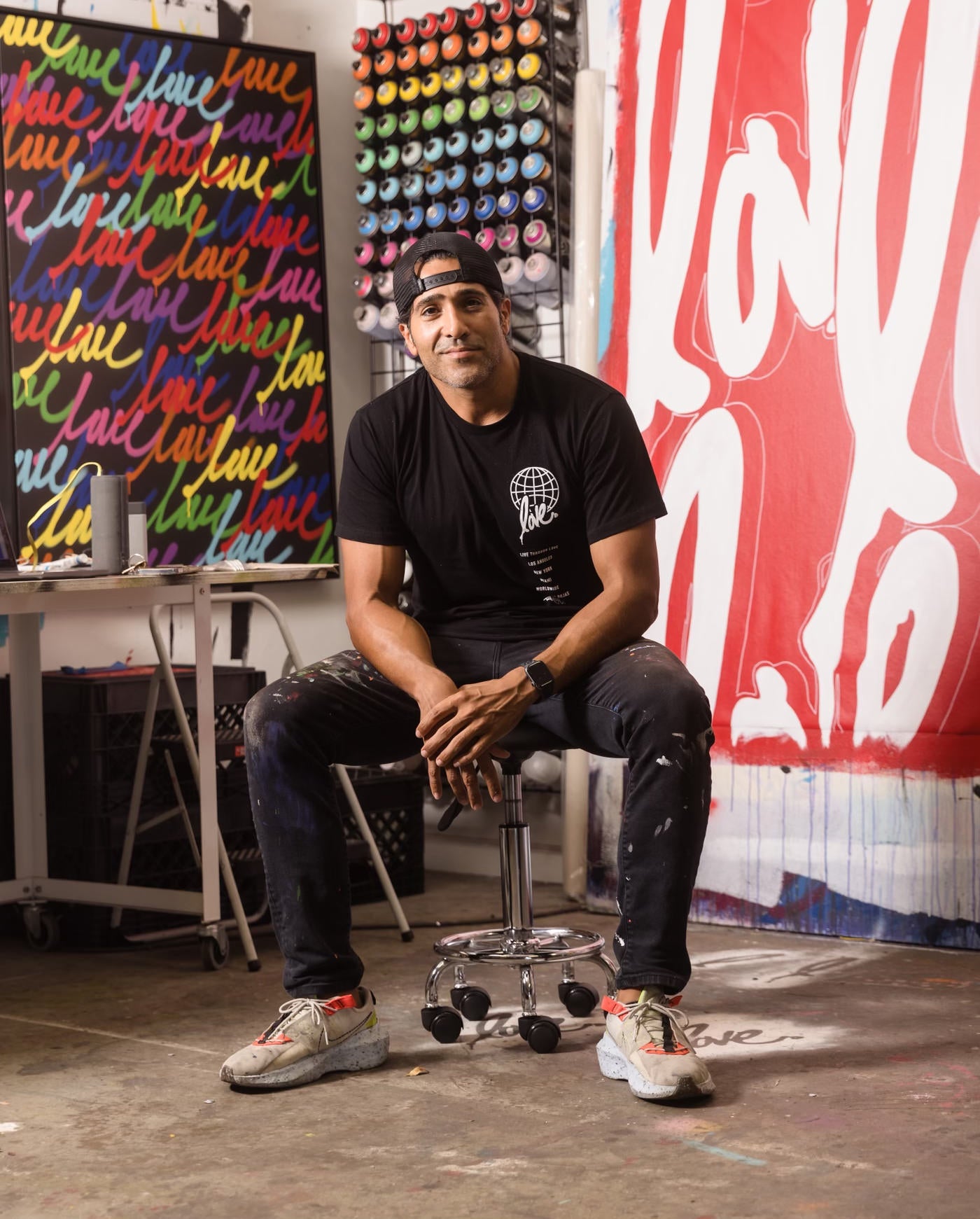 CREATING A CULTURE OF LOVE
Meet Ruben Rojas, a multi-talented artist transforming cultures and urban landscapes into canvases of hope, inspiration, and change. Ruben spreads his message through his mission, Live Through Love. Live Through Love is a lifestyle brands that ignites creativity, encourages optimism, and inspires people to see the world through the lens of love. It all starts with one word, love.

Ruben expresses his mission statement through his many talented projects such as Ruben Rojas Streetwear Apparel, The Original Love Art Prints and The Original Love Public Art Projects. Ruben's captivating Murals/Structures as well as his Art prints and Love Apparel are empowering communities to dream big, live with possibility, and radiate beauty, all while promoting a culture of love.
Ruben's Public Art Work can be found in cities worldwide, including Los Angeles, New York, Paris, London, and more, serving as vibrant reminders of art's power to unite people. He has become a prominent figure in the art world, establishing himself as a true visionary using his talents to make a difference.
Making an Impact
Ruben is a sought-after speaker who has given TED talks on the transformative effect of art. He is also a product designer, corporate consultant, and co-founder of the non-profit organization Beautify Earth. Beautify Earth works toward eliminating blighted walls and fixtures globally.
Ruben's role as an artist allows him to collaborate with companies to promote social responsibility, enhance workspaces, and raise awareness on important issues. His notable clients include the NFL, BMW, American Express, and Google. 
 Ruben's message of hope and love extends further with his podcast, "Live Through Love." Through this platform, he explores the transformative power of love and its ability to shape our lives and communities. If you want to create positive change in the world and live a life of possibility, Ruben Rojas can help you achieve your greatest aspirations without the frustration of feeling of being held back. Ruben's talents and his message of love are genuinely making a difference and leaving a lasting impact on the world.
So, join us at rubenrojas.com on this journey of inspiration and let him help you create the change you want to see in the world.
OUR MISSION
Love is a noun, a verb, and a way of life. We wake up every day and choose love. We want to change the way people treat each other, the world, and themselves. There's a lot of talk about love and making the world a better place, but we're actually taking and inspiring action. We're not selling another 'love' shirt or piece of 'love' art. We're reminding people that they matter with our words and actions, and we're inviting you to join us.This is an active state of caring. This is a movement of people who operate out of love, not fear. This is acting from the heart. This is Live Through Love.